The Village of Hazel Green has beautiful park areas for residents and visitors alike to enjoy. We invite you to relax and enjoy the sights and sounds of Hazel Green.
Rec Park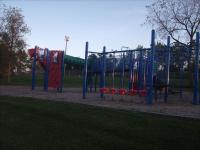 Located south of town on Highway 80 is the Hazel Green Recreation Park. The land was originally purchased in 1984 by a private group of developers to promote community recreation activities for children and adults. The park was purchased by the Village in 1997. The area of the park is approximately 10 acres and has been developed to include a ballfield, soccer fields, concession stand, pavilions, gazebo and playground equipment. Adult and children's sports leagues are organized for summer recreation programs.
Point Park
Located at the "Y" at the north end of Hazel Green, Point Park is a peaceful area to site and enjoy the beautiful flower gardens and the peaceful scenery of Main Street.
Memorial Park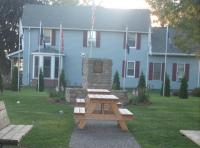 The Memorial Park is located in the center of town along Highway 80/Percival Street. The Memorial Park Committee and the Village of Hazel Green are working together to enhance this area devoted to veterans and those that are serving in the armed forces. Over the years, many community groups have dedicated their services to improving this park, including the American Legion and Auxiliary and the Hazel Green Lions Club. The Lions Club has recently taken this on as a signature project.